Nearly two million teens are arrested within the United States each and every year. Of those two million an estimated sixty-five to seventy percent of them are diagnosed with a mental health disorder. Furthermore, a full two-thirds of the juveniles in detention affected by mental health issues have been diagnosed with more than one disorder. One of the most prevalent illnesses within the justice system is substance abuse. Other commonly seen mental illnesses are anxiety, depression, and post-traumatic stress disorders.

A Lack of Mental Health Tools
Frequently, youth with mental illnesses that end up in the justice system are there as a direct result of not having access to treatment for their illnesses within their community. This can be due to a lack of funds to pay for care, a shortage of health centers in their immediate area, and also the social stigma still often attached to people with mental health disorders. In custody, juveniles' access to care is just as poor. Mental health problems are often difficult to treat in teens, due to the simple fact that they are still growing mentally and emotionally, and experience strong hormonal shifts. This can create frequent and distinct fluxes in their symptoms, and thus requires they receive ongoing assessment and treatment.

Within juvenile detention facilities, there is often a lack of any in-facility screening programs, let alone treatment options. A study1 published by the American Academy of Psychiatry and Law showed exactly the extent to which detention facilities are falling short of providing mental health care to the justice-involved youth in their care: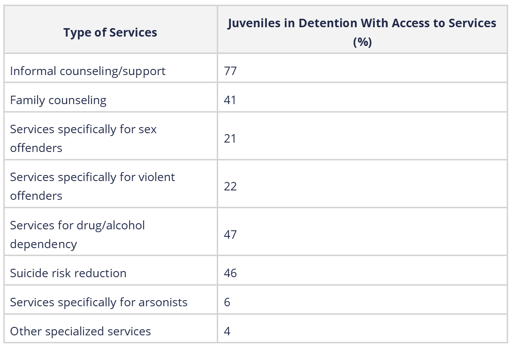 Meeting the Standards
Currently, the National Commission on Correctional Health provides published standards of care for juveniles in detention facilities. Summed up, the standards require: detainees be screened quickly for mental disorders and current medications, and any medication regimens not be interrupted; treatment plans be developed by qualified mental health professionals, documented, reviewed regularly, and made known to staff that interact with the juvenile; medication should only be used as intended, not as a form of behavioral control; the facility must have suicide prevention measures; and, juveniles should be provided with information for mental health care outside of the facility prior to release.
Meeting these standards, unfortunately, is optional for facilities, and very few do so. One of the most prevalent reasons for this is because many places are running with very limited resources, and simply cannot meet the staffing requirements that would be necessary to enact all of the NCCHs standards. This furthers the issue that juvenile offenders have with actually receiving assessment and treatment for their mental illnesses. As a result, the repeat offender rate for adolescents with mental illnesses is a shocking seventy-five percent within three years after release.
Mental Health Solutions
Some states, however, are on the path to helping justice-involved youth with mental illnesses become rehabilitated, and thus be able to stay within their communities rather than end up as repeat offenders. Orbis Partners' screening instrument, the Massachusetts Youth Screening Instrument- Web Version 2 (Web MAYSI-2), is one of the assessments successfully implemented across the country as a mental health screening tool.
In a time when people with mental health issues end up in jail due to a lack of hospitals equipped to help them, tools like these serve as examples to the rest of the United States. The effect that proper mental health assessment and treatment can have on the lives of justice-involved youth with mental illnesses is undeniable. It is only with proper diagnosis and treatment that these youth will be able to become happy, functioning members of society.
1 Mental Health Care in Juvenile Detention Facilities: A Review. Rani A. Desai, Joseph L. Goulet, Judith Robbins, John F. Chapman, Scott J. Migdole, Michael A. Hoge. Journal of the American Academy of Psychiatry and the Law Online Jun 2006, 34 (2) 204-214.
Orbis Partners provides solutions for criminal justice and human services systems, specializing in designing and implementing services for at-risk client groups. Orbis offers a unique blend of programs and services including innovative case management software applications, evidence-based interventions, and effective risk assessment tools. For more information about assessment tools related to youth mental health, visit our Youth Mental Health Assessment page by clicking here.